Who is better qualified to tell us all about SRC-PIM and its functionalities, other than our very own PIM consultants? In this blog series, our experts Bastiaan, Emiel, Max, and Patrick tell you all you need to know so you can make full use of everything SRC-PIM has to offer. In our earlier installments, we discussed the Mass Update, the Excel Import, Excel Export functionalities, and data model documentation. Today, we're going to talk about how and why you would configure your columns item list and hierarchy list within SRC-PIM 
What's an Item List?
Sometimes it may be important for you to get a good overview of the items that exist in your catalogs. To get that overview, you could use the "Item list". The item list will show you the list of items in a table view. By default attributes such as Unique Id, GTIN, and Internal name are shown. 
It may be worthwhile taking some time to configure your own view. You can decide yourself which attributes (and the number of attributes) you want to have visible in this view. This will enable you to find specific items more quickly and it also enables you to quickly filter on certain attributes. Please remember that you cannot select repeatable attributes. 
How do I get my Item List?
For SRC-PIM customers, the Item list is always visible in the overview screen at the top, which contains the items. To configure the attributes in the item list click the arrow on the top-right of the item list and select "Manage columns".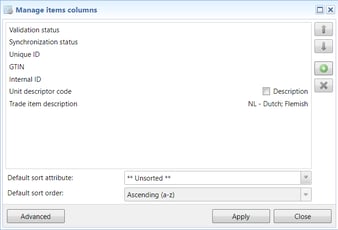 The follow-up screen will allow you to add, remove and re-order the attributes as you wish.
When you add a "multi-language" attribute you can select the language that you want to show in that column. You can select the same "multi-language" attribute multiple times if you want to show more than one language.
When you add a "code list" attribute you can select to either show the description or just the code by ticking "Description". You can also set a default sortation on a specific attribute.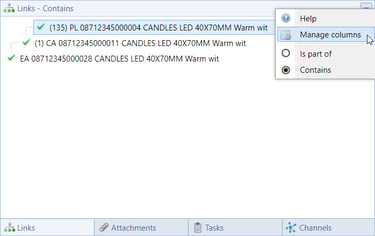 You can determine the attributes that are shown in the "Hierarchy list" or "Link list" as well. That also gives you the opportunity to show specific information that helps you identify your items.
To select the columns click the arrow on the top-right of the "Link list" and select Manage columns". The selection of the attributes works similarly to the "Item list" selection. 
The configuration for the "Item list" and the "Link list" is set for your user account. In a multi-user environment, this does not affect the configuration of your colleagues. 
Could you use some help finding your Item List or Hierarchy List and customizing them? Then get in touch with our Helpdesk right now and they will be happy to help you. You can reach our Helpdesk via customerservice@src.nl or +31(0)229 233 154.