Hospitals, healthcare institutions, and manufacturers already have to comply with LIR and MDR legislation. In the coming years, this will also apply to the IVDR legislation and the publication obligation to EUDAMED. These legislations not only require receiving and sending uniform product data via the GDSN network and the GS1 data pool but entering product data and patient data in the EPD, LIR, or from 2021 also EUDAMED. This raises the question for many hospitals and healthcare institutions: how can I be sure that my confidential patient data does not end up in systems where it does not belong, such as the PIM system?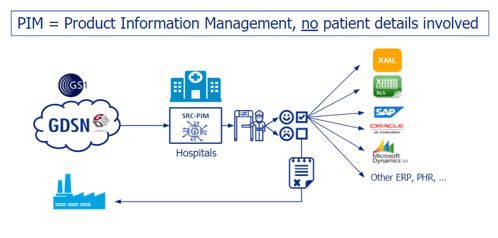 So: will there be patient data in SRC-PIM?
We can be very clear about that: no. When a hospital or healthcare institution purchases our solution to receive or send product data from or to the GS1 data pool, SRC-PIM can be used, for example, to filter, enrich and check product data. Hospitals and healthcare institutions often have hundreds of suppliers and an assortment of thousands of products. SRC-PIM helps you to filter only those articles that you want to enter into your own systems. In this way, you avoid immense data contamination of your own ERP. Also, as far as the quality of the data is concerned, feedback can be given to the manufacturer.
And where exactly is this separation between SRC-PIM and patient data?
After the product data has been extracted from the data pool via SRC-PIM and checked, the hospital or healthcare institution can forward the product data to its own follow-up system, such as an ERP. The product data 'leaves' the PIM system as it were and ends up in the domain of the hospital or healthcare institution. This is illustrated by the diagram below. After product data from SRC-PIM is sent to the follow-up system, the product data in the follow-up system can be enriched with, for example, personal data, and forwarded to EPD or LIR. This does not happen in SRC-PIM itself, so there is no connection between the patient data and SRC-PIM.
In a nutshell: On the left is the PIM system of SRC. This is where you, as a hospital or healthcare institution, receive, view, filter, and select all product data to send to your own systems, such as an ERP. In this way, you transfer the product data from the SRC domain to your own domain, over which you have full control. Your PIM cannot extract patient data from your ERP but can send it to it. And only when you want to. In your own systems, you can enrich the product data and transfer it to for example an EPD or LIR.
Need more info? Take a look at our webinar in which we give demonstrations of the above described scenarios in SRC-PIM. In this way, you can immediately see where you stand. The webinar is completely free and can be viewed here.
From IC to IT: unique offer, take advantage now!
So is your organization behind on getting your product data in order? Or do you not yet comply with the obligation to receive or send product data via GDSN, for example, if you, as a hospital, also produce medical devices yourself using a 3D printer?
Then we have a unique offer for you. Book our free workshop now, which normally costs € 1.879 and discover how to get your medical device item data in order. Get in touch with us via sales@src.nl or click through below this blog.
After a session with our expert, we will provide you with extensive advice and a clear plan of action tailored to your organization. So you can get off to a good start right away!
Want to learn more? Read our other blogs on this topic: