On the 1st of January of 2021, SRC welcomed a new colleague to the workforce. 41-year-old Tim Grootendorst joined us from Den Haag to become our Sales & Marketing Manager. Let's ask him how he's doing after one-and-a-half months with SRC.
Hello Tim, how has it been going so far?
From day one, I've felt at home at SRC. Everyone greeted me with a warm welcome, by sharing their knowledge, showing they're always ready to help, show me around or answer my countless questions. Of course, due to COVID-19 it started quite different from the way I would prefer to start a new job, mostly having online meetings and working remotely. But I absolutely have no regrets. After six weeks on the job, most pieces of the puzzle are starting to fall into place, and we can get to work with the team to start shaping future.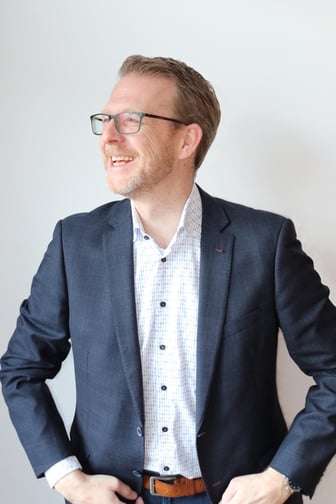 Can you tell us a bit about your background?
For almost 20 years now, I have been playing the sales field. And in those years, I have been able to discover many sides of the profession and worked on new business, account management, partner sales, both internationally and locally. After my experiences at multinational organizations such as Tele2 and Samsung, I consciously made the call: I wanted to work for smaller organizations. In recent years, I have been mainly active in building new markets, setting up partner networks and go-to-market strategies. First as Sales & Business Development Manager at a startup in smart street lighting Tvilight, then at Shippeo. A French scale-up and European market leader in Supply Chain visibility software where I was responsible for setting up and developing the BeNeLux market.
How did you end up at SRC?
Purely coincidental, I was asked by an acquaintance about six months ago if I was open to a challenge. An ambitious software company looking for a new Sales & Marketing Manager to help shape its international growth ambitions. When you're as curious as I am, you don't shy away from the conversation. From the first moment I got engaged in talks with SRC, there was a click, and that was the start of an amazing new adventure that officially started last January 1.
And now you're here, now tell us a bit about your ambitions for SRC!
The ambitions are grand, but the potential is there, on all fronts. SRC has an amazing product, a rich history, great customers, and very knowledgeable people with the right go-getter mentality. On top of that, the market for PIM is growing. COVID-19 got the world spinning backward, while one company is struggling to keep its business afloat, others are now reaping the benefits of a boom in e-commerce. For many companies, this requires a different approach and a different view of product data. We don't expect this trend to come to a halt in the coming years. Therefore, we are strongly committed to growth, not only in our domestic Benelux market, but also on the rest of Europe. We are looking to grow worldwide by offering the best PIM solution to the market together with our current and future partners.
Thanks so much for this interview and we wish you all the best in your new role! 
Want to get in touch with Tim? Tim can be reached via tim.grootendorst@src.nl and +31(0)6 20 42 37 27.