As is the case with every piece of software you use: you'll only enjoy it as much as to the extent you actually understand the functionalities it offers. That's exactly why we are starting this 'PIM Expert: how to" blog series: to make sure the users of our PIM platform get the absolute most out of their PIM.
In our previous blog, we covered the validation report. In the blog, we described how SRC-PIM users can easily gain insight into missing or incorrectly filled item fields, using the validation report. We often see that many articles would be considered incomplete, but the total number of errors is actually not that bad: the same error occurs on multiple items. This is where the mass update comes in and offers a solution. Thanks to the Mass Update functionality, it is possible to collectively change or delete information for a selection of articles.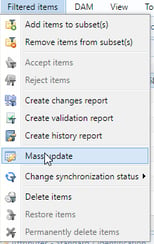 The Mass Update functionality can be applied for the non-repeatable and non-language dependent fields. Think, for example, of the attributes (fields), "Brand name", "Indication of order unit" and the size-related fields, such as "Depth value" and "Depth unit". You will find the function under the menu option: Filtered items à Mass update.
Because a lot of changes can be made simultaneously via this function, it's always mandatory for the user to confirm the number of items to be changed, before getting to the screen where the functionality becomes available. The number shown corresponds to the total number of selected items in the item list.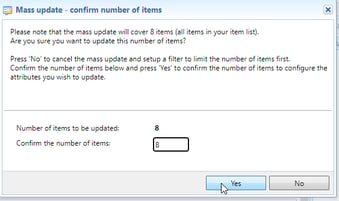 In the upper part of the pop-up screen, the attribute of which the content should be changed, can be selected. At the bottom, you can find the attribute selected, of which the contents should be emptied. After the changes are confirmed with "OK", the changes being implemented will take effect immediately.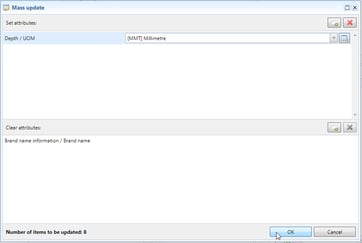 Because the changes, which are made via the "Mass Update" function, cannot be reversed, it is advisable to first export the existing information via the Excel export functionality. This way you will always be able to reverse any harm done if you made a mistake.
Need help pushing a mass update? Then get in touch with our Helpdesk now and they will be happy to help you. You can reach our Helpdesk via helpdesk@src.nl or 0229 233 154.