You are never too old to learn. In the spirit of that traditional saying, we explore all the functionalities SRC-PIM has to offer in these 'PIM Expert' blog series. Our guest bloggers Bastiaan, Emiel, Max and Patrick take you on a bi-weekly journey through our PIM software, offering tips & tricks to both the novice and expert user. Today, we cover the attribute browser.
Read more in these PIM Expert How To Series:
The Attribute Browser is a great tool, which can be found via the taskbar. It is often used to quickly navigate through the content of certain attributes. The other possibility of finding this information would be through the modules. There is a clear advantage using the Attribute Browser, as it allows you to search on a description. For example, if you are looking into the stacking factor of a pallet, you will be able to find that information in the attributes that match with the description of "layer".

To recapitulate: via the Attribute browser you can search for a specific attribute via a search on attribute name or search via a description of the attribute.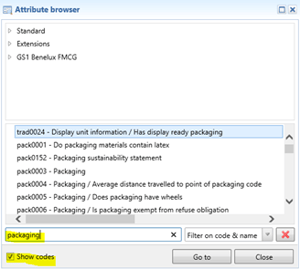 When clicking on 'Attribute Browser', this screen will appear. In this example, we are looking for the attribute 'packaging' by typing it in the box below.
As aforementioned, we can also choose to only look for the 'packaging' attribute in the selected module. The modules in this example are 'Standard', 'Extensions' and 'GS1 Benelux FMCG'. This is only useful given we for sure know in which module the attribute will turn up. It's also possible to dig deeper into these modules by clicking them and diving into the drop-down which will appear. We do not advise doing this unless you are exactly sure where to find your attribute.
By the usage of the checkbox "Show codes" you can see the attribute name too when searching on a description. You also can alter the filtering to the values "Filter on code & name", "Filter on code" or "Filter on name". Default is the most common values "Filter on code & name"
As soon as you found the required attribute, you can click on "Go to" and you will be directed to the selected attribute within SRC-PIM (in this example attribute pack0003).

Now you will be able to see the the current value for this attribute and you will be able to adjust it if needed.
Could you use some help using the attribute browser? Then get in touch with our Helpdesk right now and they will be happy to help you. You can reach our Helpdesk via customerservice@src.nl or +31(0)229 233 154.